Think about how many people enter your physical office each day: 5, 50, 500? With a good search engine optimization (SEO) your website is visited by thousands of people every day and each one of them is a potential client. A good, modern website needs to look attractive, be very simple to use and, most importantly, it needs to talk to clients on multiple levels.
Internet business market grows by the astronomical speed; it is in fact the fastest growing market in the history of mankind. The increasing line of growth is almost vertical.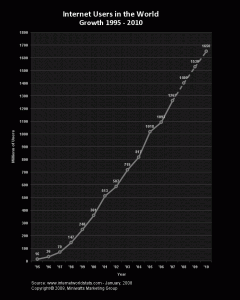 Growing population of internet users naturally brings along a growth in web business and endless competition brings a fast evolution of web design due to the need of always being on top (which is constantly moving upwards). So, an average internet surfer is spoiled up to a point that, what was enough to catch his attention only a year ago, now seems outdated. It is now important to offer so much more than just looks, or good content, or even great usability. To succeed in web business you have to be constantly changing and evolving, to have a direct interaction with a client through blog, social network, forums… This direct, mutual communication, in addition to other necessary factors is the key element in succeeding in web business today.
Number of potential visitors of a well connected website counts in millions. So, next time when you decide it is time to decorate your office in order to improve the way people perceive you think about your internet office as well.